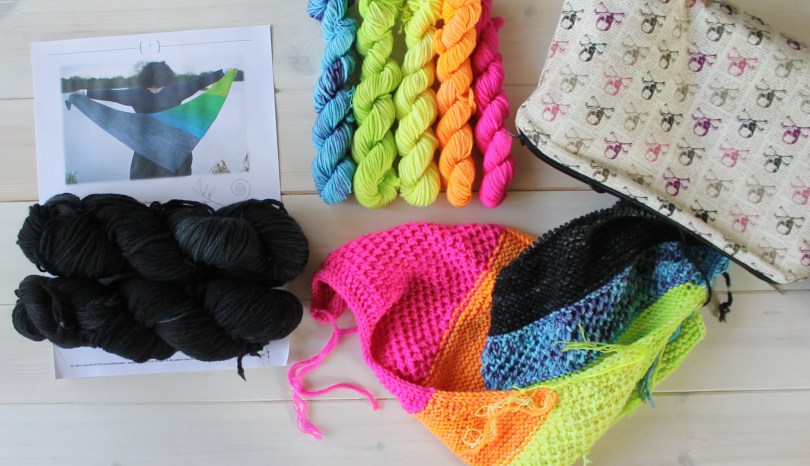 I've been working on something exciting and secret: a brand new collaboration with Anna Nikipirowicz, my friend and also an amazingly fabulous designer. Sometimes I dye yarn that I love, but I'm not totally sure what it's meant to be. In those moments I turn to Anna for inspiration. A few months ago, Anna and I met for lunch. I handed over a DK gradient set and a couple skeins of a semi solid, and I asked her to work her magic. There's no doubt about it, Anna really is some kind of magical yarn fairy. Just look at what she came up with:
I mean, as if that isn't the most beautiful thing I've ever seen, right?! The gradient flow smoothly from one texture to the next, creating what I'm positive is the best DK weight shawl released this year. I love it, it's beautiful. No, I'm definitely not biased…! 😉
And so we set about on this epic collaboration, with mini gradients, semi solids, and a pattern that's as fun as it is simple, with new textures I haven't knitted before. As always, Anna's patterns gently challenge me to learn something new: this time, a fun textured stitch! It's absolutely intuitive, and once you get started you're racing towards the next mini skein shade.


I was at a pub quiz, and a woman on my team gently petted the neat i-cord edge. "Oh, my gosh," she breathed, "what a fabulous idea to finish the edges like that!" She's not wrong, readers: that i-cord edge is SO SATISFYING. No ugly edges here, my friends!
A DK weight shawl in spring? Really?
Uh, YES REALLY. Have you even met Mother Nature recently? One nice day and we all think we're home free for summer. "FOOLS!," Mother Nature will cry, as she plunges us all back into winter in a snap, leaving us shivering in our cute summery tops as we wait for the bus. Listen, this shawl is the ULTIMATE in squish. That texture is the squishiest thing you will ever squish. And it's perfect for tossing in your bag when you're not sure what Mother Nature has in store for you. DK weight is perfect for spring: quick knit (compared to 4-ply patterns), bouncy, warm enough for wintery gusts and light enough that you don't swelter. I'm convinced that DK is the future!

The Mecha Shawl kit details
Right, here's the deets: there are TWENTY EIGHT different combinations you can pick from. Three semi solids: Gray Fox, Mecha, and Raven, and eight different mini skein gradients. There is an option for each of them on the listing in the shop.
While I have some stocks on hand, it's first come, first served: the rest will be pre-orders to be shipped approximately a week from ordering. While I know instant gratification is a warm and fuzzy feeling, it's not super feasible to have adequate stock available for 28 combinations. We could have chosen less combinations, but we believe in the power of choice and to empower knitters to make their own creative decisions!
The kit comes with 2 skeins of the chosen semi-solid, your chosen mini skein set, and a printed pattern.
The yarns are all 100% superwash merino in a DK weight.
The shawl
Here's what Anna says about the Mecha Shawl:
Mecha is a very cosy asymmetrical triangular shawl, knitted on the bias. The balanced shaping and curved top edge make it a very comfortable shawl to wear. It is worked in DK weight yarn and knit from tip to edge with a vibrant gradient of mini skeins, which transitions to a semi-solid colour full of body. The combination of comfortable garter stitch, textured pattern and interesting German short rows, all held with crisp and elastic I-cord edging results in a very interesting knit and striking finished project!
Materials
Colours A, B, C, D, E – 1 x Gamercrafting mini-skein, gradient set – sh. Nitro – lime turquoise – 100% superwash DK yarn – 20g /42m per mini-skein.
Colour F – 2 x Gamercrafting Merino DK, sh.Mecha – 100% Superwash Merino – 100g/225m per skein
4.5 mm (US 7/ UK 7) 80cm (32'') (or longer) circular knitting needles
Lockable stitch marker
Finished size
Approx: 158cm (62") along the top curve, 120cm (47") along cast off edge and 56cm (22") deep.
**Anna's pattern can also be found on her website, in case these yarns are not your jam.**